I'm following some great people on Twitter who seem to understand the concept of "Sharing is Caring!"
Here are five great web resources that work great on the SMART Board. I discovered all of these on Twitter and passed them along (retweet) to the people who follow me.
---
Interactive Psychedelic Kaleidoscope
- The name says it all
Tag Galaxy
- Fun and interactive way of searching for photographs 
Toy Theater - Music Composition
- Fun, interactive ways of teaching music composition
JigsawPlanet
- A really amazing site for interactive jigsaw puzzles. You can even create puzzles from your own images! Click on the image of the butterfly and imagine this being displayed on the SMART Board.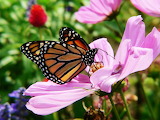 Inspiring YouTube videos
- 30 Inspiring YouTube videos to use in the classroom.
---
I hope you'll follow me on Twitter and help me share some great resources for the SMART Board.

Sharing is Caring!